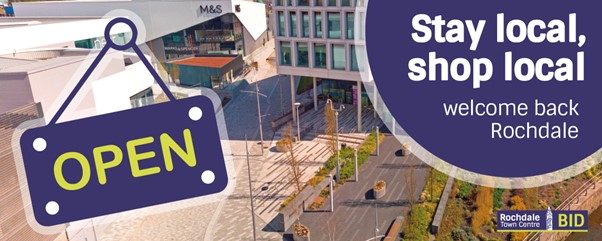 Rochdale BID want to keep you updated with the latest news, information and advice during the coronavirus (COVID-19) pandemic.
Todays update provides a summary of the following:
Step 3 of the 4 step roadmap
Food and Artisan Fayre – a successful return
Step 3 of the 4 step roadmap
As part of Step 3, no earlier than 17 May, the government will look to continue easing limits on seeing friends and family wherever possible, allowing people to decide on the appropriate level of risk for their circumstances.
From Step 3, England will see:
Maximum of 30 people will be allowed to socialise outdoors.
Pubs, restaurants, and other hospitality venues will be allowed to open indoors (venues will still be table service only and social distancing to remain in place)
Indoor entertainment and attractions including cinemas, bowling alleys, theatres and bingo halls will reopen
Organised indoor adult sport, such as badminton and indoor tennis, will resume
Up to 30 people will be able to attend weddings, receptions, funerals and wakes
Some large events will resume:
Indoor events will have a capacity of 1,000 or 50% – whichever is smaller
Outdoor events will be capped at 4,000 or 50% capacity and outdoor seated events – such as football matches at 10,000 or 25% capacity
As we move through each of these steps, it is important that we all remember that COVID-19 is still a part of our lives so we must:
Continue to follow the principles of 'hands, face, space and ventilation'
Follow the COVID-secure measures that remain in place at different stages
Get tested when needed
Get vaccinated when offered
To assist with the next step of the roadmap, we have a number of recommendations to ensure the smooth transition for our BID Levy Payers. These include:
Encouraging your customers to check-in on the NHS Track and Trace App via the NHS QR code posters displayed in your venues.
Reassure customers of the steps you have taken to make your venue covid-safe by:

Displaying posters and signage across your venue to reinforce covid-safe initiatives that have been put in place and encourage social distancing.
Encouraging your staff to wear face coverings.
Structuring the access/exit/queues to your venue, displaying maximum capacity and offering hand sanitiser.
Having staff clean (when possible) during your trading hours.

Updating your opening times and the dates you will be closed or have amended hours on:
Review your Risk Assessments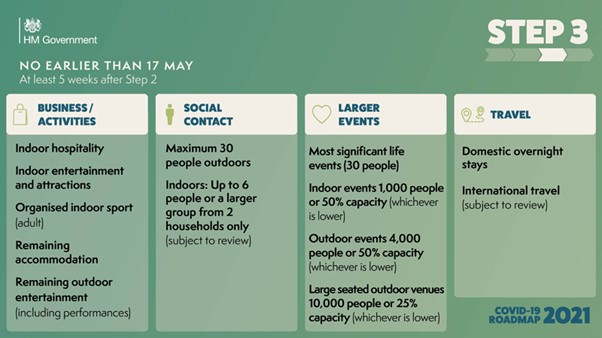 For full details of what you can and can't do rom the 17th May, please click on the link below:
https://www.gov.uk/guidance/covid-19-coronavirus-restrictions-what-you-can-and-cannot-do
Food and Artisan Fayre: a successful return!
After months of lockdown, the first Food and Artisan Fayre of the year proved to be a resounding success for all on Saturday (1 May).
Droves of excited shoppers visited Rochdale town centre, eager to hit the stores and peruse artisan delicacies and independent arts and crafts on offer for the first time in months.
High quality and original goods were available from the likes of Pextenement Organic Cheese, Tiffany's Bakery, Kandy Kitchen Creations, Reedy's Natural Relishes and Preserves, meat and eggs from Bank Top Farm, The Manchester Soap Company, and fresh fruit and vegetables by EGS Services.
Found throughout Riverside Walk, the monthly market supports local businesses and independent makers, with a range of stalls serving up fabulous locally produced and sustainable goods.
The next Food and Artisan Fayre will take place on Saturday 5 June, Riverside Walk
Useful Links
COVID-19: what you need to do
https://www.gov.uk/coronavirus
Support for businesses and employers during coronavirus (COVID-19)
https://www.gov.uk/coronavirus/business-support
If you have any queries regarding the support which his currently being offered, please don't hesitate to contact me on 07811 278517.
Paul Ambrose
BID Manager
11 May 2021