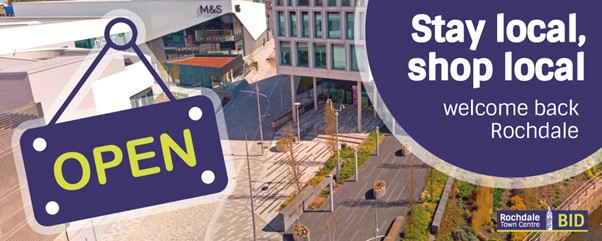 Rochdale BID want to keep you updated with the latest news, information and advice during the coronavirus (COVID-19) pandemic.
England's lockdown to ease as planned on 12 April & Reopening Guide
Fast Testing
Virtual Website Independent Directory
Outdoor hospitality will be among those reopening in England next week after the Prime Minister confirmed the roadmap is on track and planned easements can go ahead.
Significant parts of the indoor economy and further outdoor settings will reopen from 12 April, after data confirmed the government's "four tests" for easing Covid restrictions had been met.
However he continued to urge caution, with no changes to social contact rules and many restrictions still in place. Outdoor gatherings must still be limited to 6 people or 2 households, and you must not socialise indoors with anyone you do not live with or have not formed a support bubble with.
The government also committed to provide a further week's notice to businesses, provided through the update from the Prime Minister today.
From Monday 12 April additional premises will be able to reopen – with the rules on social contact applying. Indoor settings must only be visited alone or with household groups, with outdoor settings limited to either six people or two households.
This includes non-essential retail; personal care premises such as hairdressers, beauty and nail salons; and indoor leisure facilities such as gyms and spas (but not including saunas and steam rooms, which are due to open at Step 3).
Overnight stays away from home in England will be permitted and self-contained accommodation can also reopen, though must only be used by members of the same household or support bubble.
Public buildings such as libraries and community centres will also reopen.
The majority of outdoor settings and attractions can also reopen, including outdoor hospitality, zoos, theme parks, drive-in cinemas and drive-in performances events.
Hospitality venues will be able to open for outdoor service, with no requirement for a substantial meal to be served alongside alcohol, and no curfew. The requirement to eat and drink while seated will remain.
People should continue to work from home where they can, and minimise domestic travel where they can. International holidays are still illegal.
The number of care home visitors will also increase to two per resident, and all children will be able to attend any indoor children's activity, including sport, regardless of circumstance.
Parent and child groups of up to 15 people (not counting children aged under five years old) can restart indoors.
Funerals can continue with up to 30 attendees. Weddings, outdoor receptions, and commemorative events including wakes will be able to take place with up to 15 attendees (in premises that are permitted to open).
In preparation for reopening on 12th April, the BID has produced a Reopening Guide which can be viewed here https://rochdalebid.co.uk/Docs/covid/Reopening-April2021.pdf .  The guide provides useful information with regard to Government Advise and Support, grants and staying COVID secure. 
If any businesses would like to know more about reopening, please call the BID Manager on – 07811278517 or email:paul@rochdalebid.co.uk
The Find And Stop Transmission (FAST) testing programme is being used to help detect and fight COVID-19. It uses lateral flow tests (LFT) and the programme is only for people showing no symptoms. The tests are free.
Across the borough of Rochdale if you're showing no symptoms you can be FAST tested.
You don't need to book or provide any evidence, you can simply turn up at one of the FAST testing centres across the borough.
All sites are open 8am–7pm, Monday-Friday and 10am–4pm at weekends unless otherwise indicated.
Rochdale – Nye Bevan House, Maclure Road, Rochdale OL11 1DN
Heywood - York House Surgery, 19 York Street, Heywood OL10 4NN
Middleton – Bowlee Park Sports Centre, Bowlee Park Community School, Windermere Road, Middleton M24 4LA
Pennines – Hare Hill Bowling Club, Townhouse Road, Littleborough OL15 9BG
You should receive your results by text or email after 30 minutes of having your test.
You must not turn up to be tested if you have any symptoms. If you have symptoms, you must book for a COVID-19 test through the NHS or by ringing 119.
To support Rochdale's growing independent businesses we have been offering businesses an innovative solution to help them sell online through a personal shopping experience.  There are many benefits to a solution of this nature, but - given the severely adverse trading conditions experienced this year - it will provide an opportunity for retailers (and other sectors) to expand their reach without the restriction of geographical limitations or conditions such as measures put in place by social distancing or national lockdowns. This provides retailers an opportunity to reach a wider range of prospective customers on a national, or even international basis. Additionally, this provides a potential for retailers to diversify their revenue streams reaching a wider audience through which they can offer their products & services.
The main part of the work covers the use of a platform (https://independent.directory/ ) which is licensed to Rochdale BID for use by retailers that would like to utilise a platform of this nature. The BID has been working with a select number of retailers / high street shop owners to assist in onboarding them onto a new online portal and listing their services/experiences. On this portal they will be able to list the services or experiences that they would like to provide via a virtual experience.
•             Dedicated landing page for each nominated business
•             Ability to add various services/experiences to their dedicated business listing
•             One-way video conferencing
•             Payment gateway [if required]
•             Email notifications of bookings
Leverage Rochdale's position of providing high-tech solutions for retailers on  a national scale
Easy to get started for retailers
Help retailers broaden customer reach
Help retailers to diversify revenue streams
Chantilly – Personal shopping experience  
Candy Kabin - Personal shopping experience 
Guided tour of the Pioneers Museum
Cocktail Masterclass by Petit Bistro
Buckley Personal Shopping
Get salon skin at home by Simple Special.
The finishing touches to the website are being undertaken this week and it will be formally launched thereafter.
If any businesses would like to find out more about this service https://independent.directory  then please get in touch.
Useful Links
COVID-19: what you need to do
https://www.gov.uk/coronavirus
Support for businesses and employers during coronavirus (COVID-19)
https://www.gov.uk/coronavirus/business-support
If you have any queries regarding the support which his currently being offered, please don't hesitate to contact me on 07811 278517.
Paul Ambrose
BID Manager
06 Apr 2021